LifeTeen
If you happened to miss Orientation on Sunday, September 8th, please email Chris Stevenson to request a Parent Information Packet.
Welcome to Life Teen! St. Clare of Assisi aligns its resources with the directives of the United States Catholic Conference of Bishop's Renewing the Vision. This well written document provides an adequate framework for any Parish to outline the primary points of formation for any youth to experience Christ in the Catholic Faith.
The 8 directives for a well-rounded formation include:
• Advocacy
• Catechesis
• Community Life
• Evangelization
• Justice and Service
• Leadership Development
• Pastoral Care
• Prayer and Worship
We are reminded by the Catechism of the Catholic Church on how important it is that such formation begins at home, not necessarily at Church. If you look up paragraph number 1666 in the Catechism, it reads:
"The Christian home is the place where children receive the first proclamation of the Faith. For this reason the family home is rightly called "the domestic church," a community of grace and prayer, a school of human virtues and of Christian charity."
Wow! This is truly encouraging for anyone with a family! The home where one resides, sleeps, eats, watches TV, etc. is called by the Church as a place where a community of grace and prayer can be found. It is a place where human virtues are practiced. Put another way, Life Teen begins at HOME. I bet for many it's more like a community of fighting and isolated individuals. Too often families go to Church to practice Christian charity for the first time all week. Or put another way, many do not begin being nice to each other at home - many begin at Church, and after Mass it is back to the usual uncharitable norm.
If you are taking time to teach the Faith at home and practicing prayer as a family, I commend you very much! However, unfortunately, for the vast majority of Church-goers, prayer does not extend past grace before meals and learning of the Faith does not extend past listening to KSBJ or AIR1; both are great starting points, but miss the full intention of the Church's teaching.
There needs to be a renewed effort time and time again to foster the Faith at home. The Youth Ministry Program offers many components to assist in this effort of Parents to form their Youth into followers of Christ. The best way to understand the role of the Church and the Parish Youth Program in relationship to your teen's Faith Formation is outlined in the Catechism under paragraph 2226:
"Parents have the mission of teaching their children to pray and to discover their vocation as children of God. The parish is the Eucharistic community and the heart of the liturgical life of Christian families; it is a privileged place for the catechesis of children and parents."
What does it mean to be a Eucharistic Community?
I love imagery to help grasp deep theological concepts. Being Catholic is like climbing a Mountain. Everyone starts at the base of the Mountain. This base is the Eucharistic Body of Christ being composed of the "domestic churches" or families who practice to be Christ-like at home. Throughout the week everyone climbs this Mountain by avoiding sin and practicing virtue. On Sunday, when the "domestic churches" or families gather together for Mass, they reach the Summit. Upon reaching the top, multiple families come together to celebrate, profess, and partake in the Eucharistic Body of Christ by reception of the "True Presence of Jesus" at Mass.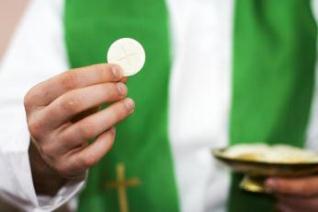 Jesus is at center of it all; He is the base and the Summit. Everything about being Catholic revolves around transforming oneself to be Jesus in this world. In fact, the joy of striving to be like Jesus at home is fully celebrated when we are privileged to consume Jesus at the Summit; namely at Mass. We prepare ourselves for this reception by practicing to be like Jesus all week long. It is only by families practicing His teachings at home that we understand how "the parish is the Eucharistic community."
The word Eucharistic means thanksgiving. Let's rephrase the earlier question: What does it mean to be a Thanksgiving Community?
If one does not practice being like Jesus all week long and then shows up at the Summit, what would they expect to see? What would one think staring at a piece of bread with eyes of the world and not eyes of Faith? What would you be thankful for? Maybe at Mass one would be thankful for family and friends or a new job or opportunity. These are great gifts to be thankful for during Mass. Yet, the most important Gift to recognize and be thankful for is JESUS. Certainly, one would be misplaced if their week did not include having one's eyes fixated on Christ. Mass is appreciated when the Faith is practiced; plain and simple. No matter how great the music becomes, or the homilies resonate with someone; they will be lost to the true meaning of arriving at this Summit.
Aligned with this truth, the goal of St. Clare's Youth Program is to foster living a life for, with, and in Christ at home and in the world.
THESE ARE THE MEANS AVAILABLE TO ASSIST PARENTS IN FORMING CATHOLIC TEENS:
Catecheo Kickoff: September 22nd 1PM-5:30PM w/ optional Social after the 5:30PM MASS
Catecheo is a Greek word that means "to make resound." As Confirmed Catholics, teens are expected to continue their love and desire to be Christ in world. This once-a-month Program is centered on Service and Theology of the Body. The Kickoff reflects the nature of the Program. We will be going downtown to assist 1000 Hills Ministry in preparing a dinner for 150-200 homeless individuals. Also, we will participate in their Sunday Church Service. This opportunity takes much help to see it through. If you are interested in getting your family involved, please contact Chris Stevenson.
Life Teen Kickoff: October 6th, 6:45PM-8PM (All Freshmen and Sophomores are Welcome to Join Us!)
Life Teen is centered on preparing teens for the foundation of Confirmation Prep. These 2x a Month Life Nights take place on Sunday in the Parish Conference Center. The goal is to encourage, challenge, and discuss with the teens the many aspects of what it means to be Catholic and how to practice this at home.
Midweek:
Every Wednesday the Parish offers the teens an opportunity to gather and build Community. With over 9 different High Schools flowing into St. Clare's, it is essential to have the youth be a part of the Community outside of Life Nights. Midweek rotates on the four week cycle stemming from the acronym ACTS.
A is for Adoration - the first Wednesday of each month, the teens gather at St. Clare's and head downtown to attend Adore Ministries Night. This night is centered on Eucharistic Adoration, with great lively Praise and Worship Music and an engaging talk. In all honesty, I have had parents come and say it was the highlight of their month. Youth who attend this think likewise!
C is for Community Outing. If there is a fifth Wednesday in any given month, it resorts to a Community Outing. Examples of Outings include rock climbing, Sky-Zone, Top Golf, Bowling, and hanging out at one of our favorite Fro-Yo places. It is a great break for the youth.
T is for Theology. These nights are centered on Scripture Study; don't let the word study fool you. Using a series by Mark Hart (worth youtubing), the teens are introduced to the greatness of Scripture! In short, Mark Hart brings the Scriptures to Life in a humorous and engaging way. Some Theology Nights in the Spring will focus on Theology of the Body, a series by Ascension Press that explores what it means to live out our vocation as men and women of God.
S is for Service. These nights are centered on serving the local community in various ways. Popularly, the best Service Night has been the Free-Car Wash where youth wash cars in the St. Clare parking lot for free. Of course, this is for non-parishioners! It is great seeing people's reaction when we say nope to donations and that it is, yes, FREE. Other service nights include various projects to help the poor, visit the retirement homes, and assist 1000 Hills Ministry.
Retreats
Fall Retreat is November 16th and 17th
Winter Guy and Girl Retreat is February 21st-23rd
Confirmation 2013-2014
Interviews begin October 2nd. Please stop by the Parish Office to sign up for a time. You must be 16 by the time your will Confirmed (Oct. 2014), Baptized, and a practicing Catholic who attended 75% of the Youth Nights last year.
God Bless,
Chris Stevenson
Director of Youth Ministry
St. Clare of Assisi Catholic Church
This email address is being protected from spambots. You need JavaScript enabled to view it.
_________________________________________________________________________________________________________________________________________________________________________________________________________________________